2 Comments
Illamasqua Is Finally Coming To Singapore!
Hello there!! I know I know.. I have been on a major blog hiatus the last 2 months (and I thought I would be blogging a lot when I was in Melbourne) Blah! Too busy cafe hopping and taking in the beauty of the city. Enough of that for now, will do an update later this week.
On to more exciting news! Yup, you might have seen or heard from other blogs that Illamasqua is FINALLY coming to Singapore! I can't tell you how excited I am because the quality of the products are so good for their price point. I personally have got a pretty decent stash of Illamasqua which I stocked up whenever I hit the counters in Australia or order them online (it's free shipping from their website).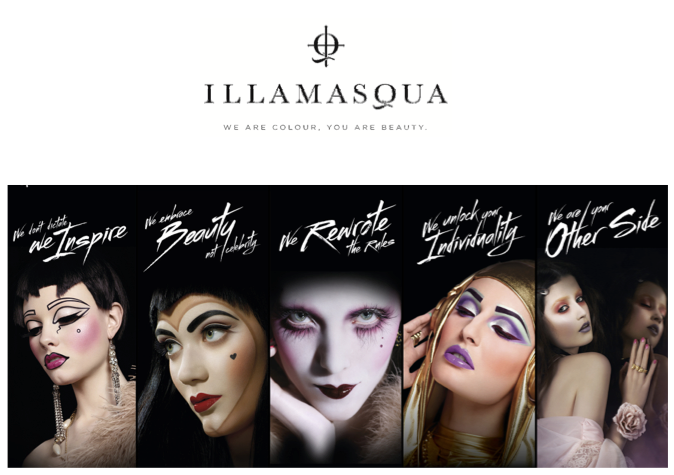 ILLAMASQUA IS THE CULT BRITISH BEAUTY BRAND TAKING THE WORLD BY STORM WITH A DEDICATION TO SELF-EXPRESSION THROUGH MAKE-UP ART. LAUNCHED IN 2008, ILLAMASQUA MAKES PROFESSIONAL MAKE-UP AVAILABLE TO ALL FOR THE FIRST TIME, AND WITH A BOLD, AWARD-WINNING COSMETICS RANGE THEY ARE CHALLENGING THE CONVENTIONS OF THE MAKE-UP INDUSTRY. CHOOSE FROM A RANGE OF CULT FORMULAS, INCLUDING COLOUR-INTENSE LIPSTICKS, SUPER CHIP-RESISTANT NAIL VARNISHES AND HD-READY FOUNDATIONS, AND TAKE YOUR LOOK TO THE NEXT LEVEL.
As mentioned above, I have been purchasing and collecting items from Illamasqua the last 2 years. I have tried their bases, eyeshadows, blushers, nail polishes and even brushes. There must be a reason why I keep going back to the brand even though I'm not usually a big fan of bold artistic colors especially for the eyes. Some of my all-time favourites from the brand are their Skin-base Foundation, blushers and nail polishes. Will share more in later entries.
Below are snaps of one of my previous hauls from Illamasqua, since then, I've added more stuff into my collection including the new Hydra Veil :p
Illamasqua will be available at Robinsons Centrepoint from end-October. Do also follow their facebook page for regular updates.
Have a lovely day!!